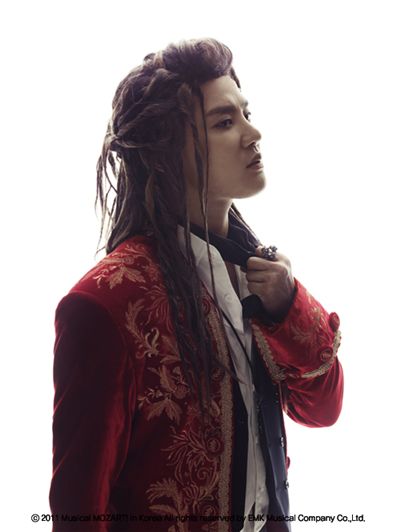 Male trio group JYJ member Junsu will once again star in musical
"Mozart," announced the musical's producer EMK Musical Company on
Friday.
EMK announced in its press release today that singer-actor Junsu will
play main character Mozart in the musical set to run from May 24 to July
3 at Seongnam Art Center, rotating his role with other actors Lim
Tae-gyeong, Park Eun-tae and Jeon Dong-seok.
"Mozart" was one of the top-selling musicals in Korea last year,
attracting over 100,000 viewers during a month-long performance.
It also earned Junsu the award for best rookie at two major musical awards in Korea. "Mozart" was Junsu's debut musical.
"As this was the first stage performance under my real name Kim Junsu
instead of Xia Junsu of TVXQ, I am deeply attached to this work and
promise to do my best once more," Junsu was quoted as saying in the
statement.
This will be his third time working on a musical following his second
project "Tears of Heaven," another large production in which he worked
with Frank Wildhorn, the renowned composer of "Dr. Jekyll and Hyde,"
Gabriel Barry the producer of the film "Sweeney Todd" and America's top
musical star Brad Little.
"Mozart," an Austrian musical written by world-famous playwright Michael
Kunze and composed by Grammy award-winner Levay that expressed the
dynamic life of a genius musician through rock music and jazz, attracted
over 10 million viewers in Europe alone and was licensed to just five
countries including Korea, Germany, Sweden, Japan and Hungary.
Kim, a former member of TVXQ, was one of the most popular dance groups
in the K-pop scene whose other members were composed of Hero Jaejoong,
Mickey Yuchun, Max Changmin and U-Know Yunho.
However, after suspending his activities with TVXQ over a legal conflict
regarding their contract, he formed a three-member boy band named JYJ
composed of Yuchun and Jaejoong.
Source: AsianBite